What Is It and
Why Have One?
If a child is to keep alive his inborn sense of wonder, he needs the companionship of at least one adult who can share it, rediscovering with him the joy, excitement, and mystery of the world we live in.
– Rachel Carson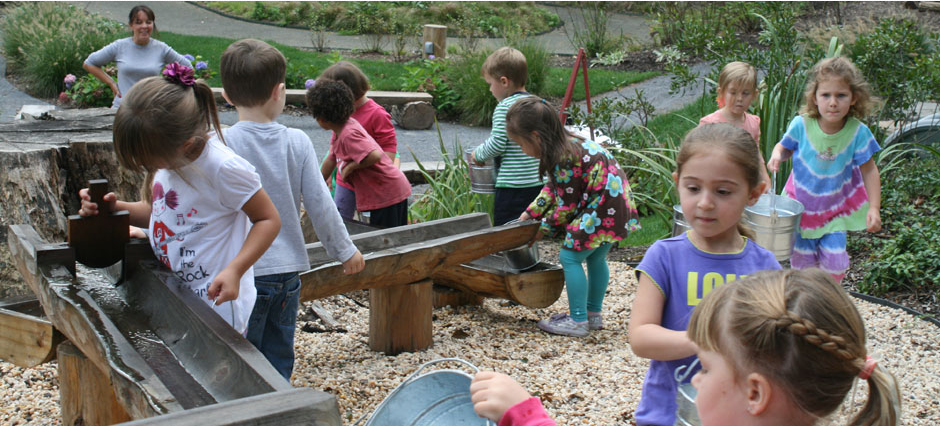 What is an Outdoor Classroom?
An Outdoor Classroom (ODC) is a dynamic, nature-based play and learning space. There is very little that children practice, play, explore or learn inside the walls of their school that they cannot practice, play, explore or learn in an Outdoor Classroom. What better place to learn about birds, or trees, or insects than in the native habitat?
Play Groups is extremely fortunate to own several acres of serene, secluded woodland – the perfect setting for an Outdoor Classroom. The school's unique ODC, believed to be the first in a private preschool on Long Island, is the product of many years of planning and execution. We are still discovering new ways to use the Outdoor Classroom to provide our children with meaningful and powerful learning experiences in a beautiful space all their own.
Why would a preschool want an Outdoor Classroom?
Educators and mental health professionals worldwide are concerned that many children today no longer spend unhurried time exploring the natural world as previous generations have done. Research strongly indicates that children need connections with the natural world as a regular part of their healthy growth and development and that transforming our approach to environments, health and early education is critical. Connecting children with the natural world:
Is crucial for their optimal intellectual and physical development;
Provides a sense of refuge and healing in a sometimes confusing world;
Helps them grow into adults who care about environmental stewardship;
Nurtures a sense of shared community among the world's peoples.
Over several years, the staff of Play Groups became increasingly dedicated to providing children with hands-on, nature-based experiences. In 2011 we dedicated our Outdoor Classroom to the present and future generations of children everywhere.