The Creative Curriculum
The curriculum utilized at Play Groups is guided by the established principles of The Creative Curriculum®, widely regarded as one of the nation's leading systems of integrated planning, assessment and evaluation for early childhood programs. The Creative Curriculum® is based on the body of research conducted over the past seventy-five years by leading theorists such as Jean Piaget, Abraham Maslow and Howard Gardner. As children move through our progressive curriculum, they acquire increasingly complex knowledge, skills and concepts within each of the six content areas incorporated into the curriculum – literacy, mathematics, science, social studies, the arts and technology.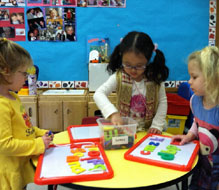 Literacy
As children grow, they gain ever-increasing command of the ability to communicate well with others through speaking, listening, reading and writing. Challenging activities are incorporated into our daily program to help develop language skills, active listening, phonological awareness and emergent reading and writing skills essential for success in school and in later life.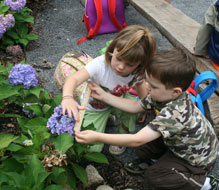 Mathematics
The math activities built into our curriculum help develop important foundational skills such as observing features, organizing information, comparing attributes and identifying relationships. Over time, children learn the tools and vocabulary of mathematics, such as yardstick, height and feet, and ultimately explore complex concepts such as the three-dimensionality of cubes and spheres.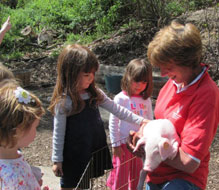 Science
Children are born scientists, inventors and naturalists. Our program encourages children to experiment, ask questions, devise possible answers and put their theories to the test. Our science curriculum examines not only the natural world of plants and animals, but also introduces elementary concepts in chemistry, such as liquid, gas and solid, and in physics, such as pulleys, levers and other simple machines.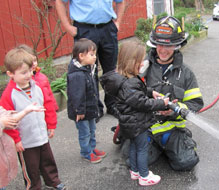 Social Studies
Children are deeply interested in the people in their world –– the people in their families, the work that neighbors do and their own place in the community. The dramatic play center allows children to explore these various roles and the contributions that each makes to the world. Social studies also involves helping children make rules for the classroom, learn to appreciate different points of view, treat others as they wish to be treated and become members of a caring classroom community.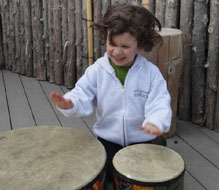 The Arts
The inner joy expressed through art, music and drama is important to children's development. In addition to being intrinsically pleasurable, these activities allow children to express what they know and how they feel. Our program encourages children to create their own works of art, emphasizing the process of creating, rather than the product that is created.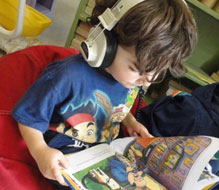 Technology
Children use the tools of technology to solve problems, to entertain and to inform. Computers and iPads provide resources to find information, inclined planes serve as ramps for model cars and listening media promote emergent listening and reading skills. Children must learn to use technology efficiently and effectively as future citizens of an increasingly complex world.