Early Elementary Groups (Ages 5-7)
Our Early Elementary program is designed for campers entering kindergarten through second grade who are seeking a more physical and challenging camp experience. The combination of summer weather and Play Groups' unique natural setting provides many new opportunities to explore nature-based themes. Campers' days are filled with adventure, discovery and variety as they bound over boulders, dig under logs and climb to the Camp Overlook to survey the view over the entire campground. Our Outdoor Classroom is home to many species of birds, insects, trees and other wildlife that provide campers with endless opportunities for observation and exploration of the natural world.
Our summer camp offers a Swim Program that includes both instructional and recreational swim every day in our safe, comfortable child-size pool. Our specially-designed outdoor pool features a wading area and a shallow, 3-foot-deep swimming area, providing an inviting and rewarding swim experience for every camper.
Elementary-age campers also participate in our Sports Program which emphasizes skills development, cooperative play and good sportsmanship at an age-appropriate level. Campers learn and practice introductory skills in some of their favorite sports such as volleyball, soccer, basketball, kickball and other group games.

Groups for Ages 5-7
5s
M/W/F or M-F
9:00 to 2:00 pm *

---

6-7s
M/W/F or M-F
9:00 to 2:00 pm *
* Optional Dolphin Swim Club from 2:00 to 3:00 pm
on your choice of 2, 3 or 5 days
About Our Day at Camp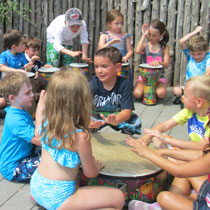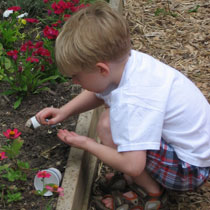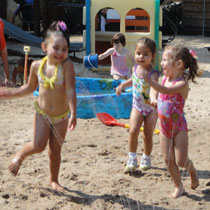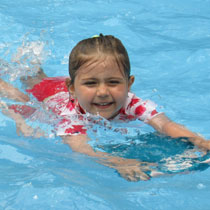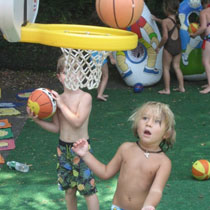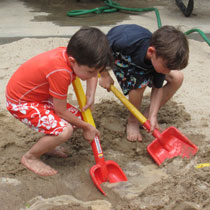 Arrival/Welcome (15 Minutes)
Get settled, greet your friends and join in an activity.
Morning Meeting (15 Minutes)
Gather at the outdoor stage for a song or group movement.
Outdoor Classroom Centers (45 Minutes)
Enjoy working with our Music Educator, Artist-in-Residence or Naturalist.
Snack Time (20 Minutes)
Take a break and enjoy a snack from home.
Instructional Swim (20 Minutes)
Taught by a Water Safety Instructor.
Recreational Swim (25 Minutes)
Supervised by two Certified Lifeguards.
Outdoor Classroom Centers (45 Minutes)
Get busy at the water sluice, garden boxes, riding track or messy materials area.
Lunch (30 Minutes)
Join your friends for lunch and a little R&R.
Sports (20 Minutes)
Practice introductory skills in volleyball, soccer, basketball or kickball.
Nature Art (30 Minutes)
Enjoy painting, drawing and sculpting with natural materials.
Outdoor Classroom Centers (30 Minutes)
Participate in group adventure games, creative dramatics, block building and fun on the playground.
Farewell/Dismissal (10 Minutes)
Pack up and end the day with a story or song.